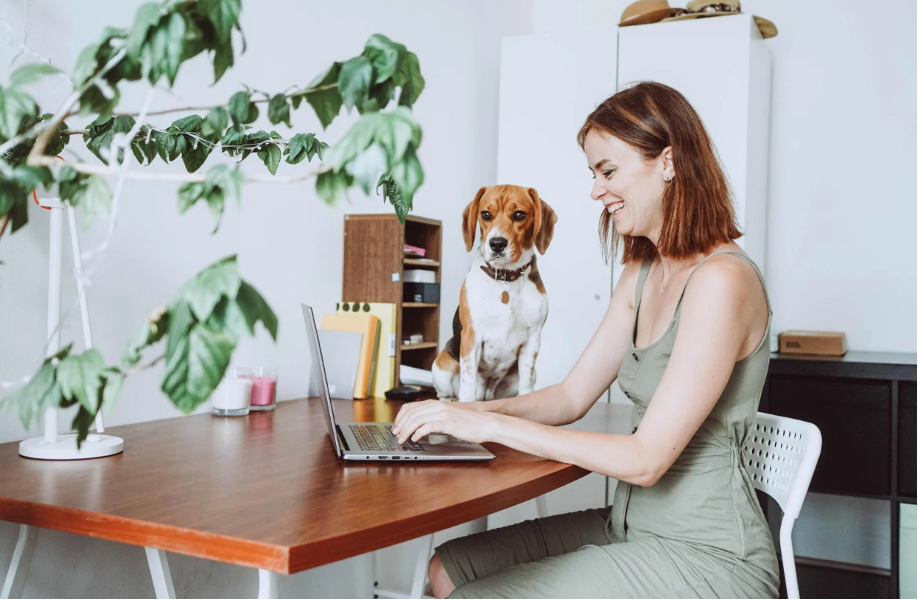 Ever since 2020, remote work has skyrocketed. With video communication tools like Zoom blowing up, working from home has become the new normal. Remote work continues to be popular because of the flexibility it allows people to balance their work and personal lives. If you're someone that needs a flexible job, whether that be because you are a parent, move around a lot, or would simply rather have a remote job, here are five jobs that can be done from the comfort of your own home that might be perfect for you.
Data Entry Clerk
The first remote job you can apply to is a Data Entry Clerk. This job is a good fit for anyone who is skilled in speed and accuracy or has experience with computer skills, typing, and data entry. Data entry clerks are responsible for inputting data into computer systems and databases and typically work with a high volume of data. With this job, you can work directly for a company or work as a contractor from a computer in any location. The typical salary is $38,243. Definitely consider this career if you consider yourself a tech-savvy person and want a flexible work schedule!
Customer Service Representative
Next up is to become a Customer Service Representative. This is one of the easiest remote jobs to attain because they are needed by every company and are constantly being hired. No matter the service, whether it be in the food, clothing, software, or gaming industries, it needs people who will be ready and available to tend to each customer's needs. The duties of this job include answering customer questions, resolving issues, and providing information about products and services. If you possess good communication skills, the ability to multitask, and the ability to remain calm in challenging situations, this is right up your alley. Customer service representatives may work for a company or be self-employed, providing services to clients. The typical salary per year is $56,777.
Freelancer
Are you an artist, writer, or web designer? Consider doing freelance work. Freelancers are self-employed individuals who provide services to clients on a project-by-project basis. Animators, writers, and web designers are typical types of fields that do freelance work, but really anyone who has a desired skill to offer can do freelance work. Freelancing is great because it offers the flexibility to choose projects and clients, set your own rates, and determine your own schedule. On the other hand, it also requires self-discipline, strong time-management skills, and the ability to market your services effectively, so as long as you are on top of your self-management, it's a great option to work from home. Freelancers' salaries vary, but in general, they make around $41,000 to $80,000 a year. Check out Fiverr to showcase your skills and get hired for a freelance job today.
Virtual Assistant
Another remote job to consider is becoming a Virtual Assistant. The main duty of a virtual assistant is to provide administrative support to a company. Common tasks include scheduling appointments, managing emails, organizing files, making calls, and anything else requested by the hirer. Virtual assistants should have strong organizational skills, the ability to work independently, and experience with common office software like Microsoft Office and Google Sheets. Virtual assistants make $72,033 per year on average.
Event Planner
A fun remote job option is to become an Event Planner.  Although event planners do need to work in person in some cases, it is entirely possible to keep the work 100% remote. Event planners usually coordinate weddings, birthday parties, corporate events, and more. As an event planner, you have the choice to work directly for a company or be freelance with your work and work on a client to client basis. The top skills needed for this job are creativity, organization skills, and the ability to collaborate with all different types of people. This is a great option for all the social butterflies out there. There is a chance you may need to travel to attend events, but the majority of the planning and coordination can be done from home. The average salary for an event planner is $50,508.
Conclusion
To wrap up, working from home is a great option for anyone who needs a bit more flexibility in their work, and it's easier to find a remote job now than ever. Whether you are interested in data entry or event planning, there is a work from home job that is right for everyone. If you need help searching for remote jobs check out sites like Indeed and Glassdoor that list thousands of remote jobs that are hiring today!